The Ford COE is simply a "Cab Over Engine" style truck.  Ford began production of this Model C truck in 1932 and although "Ford had been producing factory made pickup trucks since 1925, the changes made to the truck line in 1932 would set Ford apart from its competition and establish the auto maker's reputation as a builder of powerful and sturdy work vehicles.
The most significant change in the 1932 truck line occurred under the hood. Facing competition in the pickup truck market from the Chevrolet 6-cylinder engine, Ford decided to take a gamble, and offered their newly designed Ford Flathead V8, originally slated as an option for passenger cars, in their truck line. The decision would prove to be a popular one with the buying public. The 4-cylinder engine was still offered as an economy option, but would eventually be phased out due to low demand.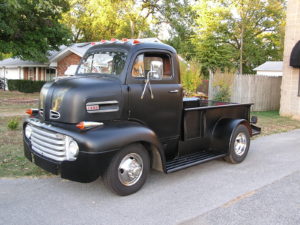 Unlike the Ford passenger cars of the era, the trucks of the 1930's would not receive many radical styling changes. Spartan interiors and a design that focused on functionality over style would be the standard for a line that would see only minor changes for the next few years.
The next noteworthy change in appearance occurred in 1935. Styling changes for both the passenger car and truck line found favor with potential buyers, increasing sales for Ford. The trucks borrowed some design cues from their passenger car cousins and featured a slanted-back grille and windshield, tapered headlight housings, and curvaceous, skirted fenders.
n 1937, in an effort to reintroduce an economy engine, Ford offered a downsized Flathead V8, down to 136 cubic inches from the standard 221 cubic inches, as an option. The 1938 pickup included a new updated cab and bed, a large oval grille, and generously rounded front and rear fenders. As the decade closed, Ford, coerced by competition and public pressure, introduced hydraulic brakes for the first time in 1939."(source: www.macsautoparts.com)
A heavy-duty version the C-Series was produced from 1957-1990 and when they finished production, it was the longest produced commercial truck (33 years) in North America. These trucks are familiar around the country as fire trucks, and garbage trucks. This article gives a great overview of that time.
the-rise-and-fall-of-the-coe-semi-tractor
Another great resource on the history of Ford trucks is a book called " Ford Trucks Since 1905″ by James K. Wagner.